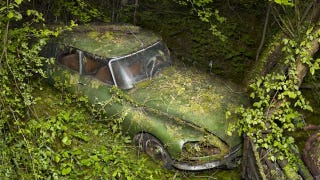 PSA Peugeot Citroën is a storm battered ship with an unclear map of what it should or could do given that it's bleeding cash off the port bow. Looking to shore up capital to continue it appears they are looking towards Chinese partner Dongfeng to take a minority stake, and even the French government could possibly take a stake to ensure jobs remain filled
This all comes after a period of the perception of poor quality, bland products and a game of musical chairs for the CEO position. It started to seem like things were turning around, then the european car market tanked (especially in Southern European countries where they have a large market share) and that once silver lining began to tarnish
I was reminded of this quirk of theirs to go astray recently when their new DS 5LS sedan was shown. Their DS Line has proven to be a massive hit with critics and shows quite some promise. The DS3 becoming their face of their new line, using it as their WRC ambassador, and the DS5 is just radical in all the right Citroën ways: a fastback large family car with an optional diesel-hybrid AWD system. Then the China only DS 5LS showed its face…..
Well, first it's a sedan which is catering to the Chinese market which is fine but the proportions and lines look dull. The headlights and grill on the other hand….It takes cues from the Wild Rubis concept, but where it had slick and chic all LED headlamps, this just has two basic round bulbs at the ends with this huge gaping grill in the middle, it literally looks like a Kia Optima knockoff. I wasn't a fan of the grill design on the concepts versus the previous generation, but if they were leaning that direction the large Numero 9 concept did it best. Which brings me to the death knell, the stylized DS logo in the grill, something about just screams wrong, it's not symmetrical which is irritating, it's also redundant, just above it is the DS badge which all models of the line have had to date. To put it plainly, there are no Double Chevrons anywhere on the exterior!?! So you are gonna sell a Citroën, and not have any marking to let people know it's a Citroën?
It's a thing like that that just is just maddening how a company with debatably the best styling in the industry can half-ass out something like that. It may be minor in some respects but in a lot of ways it is systemic of a greater problem with the company, how it can be profitable and prosper in a quickly changing global auto market
I am typing this to consider ideas to save Peugeot and Citroen in the eyes of the market place, and frankly themselves. Thing there are doing now, things they should do, things they could do and for the hell of it maybe a few pipeline dreams when they get their shit into gear
Shift in Leadership Balance

Everything starts at the top, and yes Carlos Tavares is the new incoming CEO, and has immense experience working under Carlos Ghosn, but something else has to change. The talk is with the influx of new capital from the French State or Dongfeng is that the Peugeot family would reduce their voting power, which stands at 38.1%. With a company whose history has been murky at times, it seems time that more voices at the table is better then one with a stranglehold over the rest. Part of this reasoning is because with the Peugeot family at the helm, they have more incentive to prioritize their name sake brand at the expense of Citroën, which can cloud their judgement, but more on that in a bit. This is something that to start with, is not just a "should be done", but a "must be done" if this company will have any future
More Special Editions models, GTi, R, etc

One thing they are starting to do, which will please enthusiasts no doubt is add more performance models of their existing lineup, easy way to get some quick profit, including getting the 308 R to the production line, perhaps a 208 R as well, a nice pocket rocket to be sure, the DS4 Racing concept as well to fight the Audi A3 and Alfa Romeo Giulietta as a premium hot hatch, a hotter DS3 Racing putting out 256 hp, get some hot diesel hatches in there too, more tie-ins like the YSL DS3 they did some time ago and so on…
A Premium A-Segment Car

In the last few years, most of the major Euro automakers have been introducing upmarket city cars, such as the Fiat 500, Mini and most recently Opel Adam. PSA already has the platform they share with Toyota, just needs a sleeker body to go along with it. But what should it be? A Peugeot? A Citroën, then what to call it? A DS1?
Correct this brand dilution of Citroën

Recently PSA announced a 3 tiered plan for their brands: Peugeot was to move more upmarket to better battle VW, which is smart, but the problem was splitting Citroën down the middle, having the C-Line going towards the entry level market and the DS Line going above Peugeot. This move already can cause confusion and it could ultimately weaken the Citroën name and image to such a degree it could worth untold Billions in value lost.



My personal opinion is Citroën should be a premium brand outright. The brands history does have its share of amazing economy cars, but it's greatest history lies in its top of the line models: the DS, CX, XM, C6, it best not to squander it. In addition to well known comfortable ride, I would suggest offering AWD on most of their models, the market for is ever increasing, especially in the premium end of the market
Fix the naming scheme of both brands

Putting Citroën in the premium seat, I wouldn't call it the DS Line such they have likes DS3, DS4 and so on. The DS moniker should be reserved for the top large car in the E-Segment competing against the Audi A6, a true C6 successor. What I would suggest is to harken back to its heyday and reuse a two letter naming line, made famous by the AX,BX,XM and so on

Peugeot decided instead to do a different and confusing route, the new line is prefix-08 which are their mainstream cars, and for developing countries its prefix-01. It's kinda shooting themselves in the foot, they now have a second generation 308. It kind of defeats the purpose of having numbers in the first place since the last number was supposed to denote the generation. My solution is to return to the original intent but with the 10th generation begin calling them prefix-0X, for example the 30X pronounced "three oh ten". The 308 is a great name, but to use it for generation after generation?
Introduce a proper entry level brand

Now this was where they were going with the idea of the C-Line, and rumored to be looking into a couple years ago. I think it is a smart market move to be in this field battling Dacia, Skoda and others. Where I would go with this? There are two options: One, they could use a French name like Talbot or Simca to stick with the gallic roots, or Two, do what VW and Renault did and market it from Central or Eastern Euro perspective, a name like Tatra, famous for their trucks, also quite well known for their car designs, and can be built in their Slovakian plant. The second route could grab some market share away from their Teutonic rivals given how nationalistic European countries tend to be
Return to the North American market

I really do think this is a must in the long term, the market has changed immensely since leaving and there is certainly a strong desire inside North America to see them return. The Quebec market alone I would suspect would be receptive to a market presence. The United States you focus on the coastal states the heaviest. The key is marketing correctly, something that exudes European sophistication one hears when they think Louis Vuitton, Courvoisier, Chanel and so on. The ideal initial market is for the crowd that drove Saabs, or miss the old "quirky" VW before they started to de-content their cars
A proper Halo Car

The sportiest car in the PSA portfolio is RCZ Coupe, a fine example and much prettier then its rival Audi TT Coupe, but it's all they got, and that is a shame. PSA has wowed audiences for decades with their amazing concept cars, The Quasar, The Oxia, and most recently Onyx, But for what ever reason they have never released any of those. On the Citroën side it's been nearly 40 years since the SM ceased production, and neither company has since that time released a proper sports car.

The best option if they went this route, would be a two car strategy. On Citroën side a spiritual successor to the SM, a proper luxury GT, and on the Peugeot side, a mid-engined premium sports car, building off the legacy of the 905 and 908, It shouldn't have to be priced as super-car necessarily and could compete with the 911 in price range
A RWD based luxury lineup

Okay now this is wishful thinking, but hey why not. When you think about the two commonly panned Luxury marques, which come to mind? Acura and Lincoln. They both have plenty of issues, but an interesting point to note is they are both FWD based lineups. Audi has bucked the tread largely by becoming an AWD company even if their models are mostly based of a FWD influenced architecture.

If PSA were to ever unleash a proper luxury line, it would appear the best way to go about it would be with a RWD approach. Perhaps to differentiate themselves would be to go with their best attribute..Styling. One name that comes to mind that exudes that history of luxury and dramatic styling is Delahaye, it fits with an image that exemplifies the pinnacle of French automobiles.

Will most of any of this ever come to fruition? Or is it all just a spirit desire? The forecast is gloomy now, but who knows…